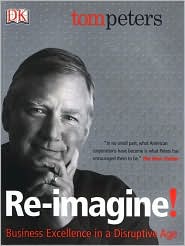 Tom Peters is back with a call to arms and a passionate wake-up call for the business world, educators, and society as a whole. In Re-imagine! Business Excellence in a Disruptive Age, America's most influential business thinker profiles seven distinct and very different companies that exemplify Peters' new business ground rules where screwing up, destroying, and "thinking weird" rule the day. Each of the companies profiled faced revolutionary business challenges and responded by inventing entirely new opportunities. Each had to re-imagine the nature of work itself—and did so by soliciting the energy and engagement of each and every one of their people.
Re-imagine is part of the Tom Peters Combo Package( $1499). The combo includes:
In Search of Excellence
Passion for Excellence Short Cut
Passion for Customers
Re-Imagine Business Excellence in a Disruptive Age
The complete package is not available at this time.